Lebkuchen-Schmidt
Advocaat Mini-Cakes
8 moist mini-cakes with advocaat
Lebkuchen-Schmidt stands for:
Climate friendly shipping
Power from renewable energies
Packaging material reduction
Add to wishlist
Add to comparison
Recommend via e-mail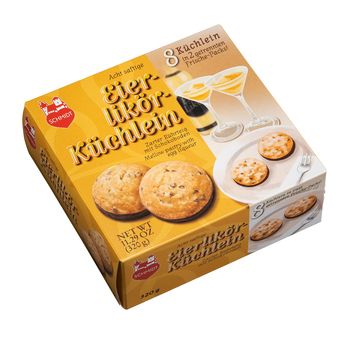 Advocaat Mini-Cakes
8 moist mini-cakes with advocaat
Advocaat Mini-Cakes for gourmets
We're pretty sure you have a bottle of Advocaat in your cupboard too. Because this creamy liqueur is simply a jack-of-all-trades when it comes to desserts: You can celebrate with Advocaat sundaes and puddings, mix it with other drinks to make delicious cocktails - or enjoy it neat. For example, to round off our delicious Advocaat Mini-Cakes. To this end, we have flavoured the fine sponge cake with Advocaat, added chocolate chips and placed it on a delicious chocolate base after baking. Small, fine, delicious - nothing really stands in the way of enjoyment!

Incidentally, Advocaat was not made from eggs in the past, but from avocados - hence the brand name of what is probably the most famous Advocaat. Already in the 17th century, researchers in Brazil discovered the delicious drink and exported the recipe to Europe. Due to the lack of avocados, they switched to eggs as the main ingredient, which in no way diminished the popularity of the drink, quite the contrary!

So enjoy our Advocaat Mini-Cakes - and drink a toast to the researchers who gave us this pleasure!
Ingredients
In particular cases, some modifications of this document's contents may have been effected after publication. Therefore, please kindly check the ingredient list and the nutritional information on the product packaging itself before consumption.
Mellow pastry with 4 % egg liqueur and 21 % chocolate
Ingredients: WHEAT FLOUR, sugar, persipan (apricot kernels, sugar, invert sugar syrup, potato starch), chocolate bits 11 % (sugar, cocoa mass, cocoa butter, low fat cocoa powder, emulsifier: sunflower lecithin), chocolate 10 % (cocoa mass, sugar, cocoa butter, emulsifier: sunflower lecithin), humectants: sorbitol, glycerin; rapeseed oil, EGG LIQUEUR 4 %, invert sugar syrup, thickener: guar gum; WHOLE EGG POWDER, waxy corn starch, natural flavors, EGG WHITE POWDER, emulsifiers: mono- and diglycerides of edible fatty acids, sodium stearoyl-2-lactylate; vegetable oil (palm, rapeseed), raising agent: ammonium bicarbonate; alcohol, potato starch, acids: sodium acetate, acetic acid; WHOLE MILK POWDER, spice extract.
May contain traces of TREE NUTS, SESAME SEEDS and SOYBEANS.
Packed under protective atmosp
responsible food company:
Lebkuchen-Schmidt GmbH & Co.KG, Zollhausstraße 30, D-90469 Nürnberg/Germany
Nutritional information
General nutritional information
** 1 piece = approx. 40g
per
100g
per
piece*
Energy
1.730kJ
413kcal
692kJ
165kcal
Fat
- of which saturates
17g
5,7g
6,8g
2,3g
Carbohydrate
- of which sugars
57,9g
36,2g
23,2g
14,5g
Fiber
3,6g
1,4g
Protein
7,1g
2,8g
Salt
0,15g
0,06g
*
Customer Rating
4.79/5.00
(105 Customer Rating)
We use Trusted Shops as an independent service provider for obtaining reviews. Trusted Shops has taken measures to ensure that the reviews are genuine. More information

Danke die Lieferung ist noch rechtzeitig zum Fest angekommen .Alle Produckte sehrgut vepackt. Ich wünsch der Firma Schmidt frohe Weihnachten.??
Super Qualität, umwerfend guter Geschmack
saftig und lecker im Geschmack
Frisch und Lecker sehr gute Qualität so wie wir es von Schmidt gewohnt sind .. Eben mit dem Herzen dabei
Schmeckt einfach sehr gut.
klein, sehr schmackhaft und zum 3.mal schon bestellt
Sehr leckere kleine Kuchenstücke zum Tee oder Kaffee
Einfach genial . Mein Mann liebt sie
Mit dem Herzen dabei das schmeckt man,immer wieder lecker....
leckere Eierlikör Küchlein für die Vorweihnachtszeit
Ist geschmackssache, uns sind sie ein wenig zu süß, aber Geschmacklich sind sie prima.
Hatte ich schon letztes Jahr, sehr lecker!
Schmecken einfach nur Super
Eierlikörküchlein bekommt mein Mann, er isst sie sehr gerne.
Habe nichts probiert, es war alles zum Verschenken!
Etwas sehr süß aber trotzdem sehr gut
Für mich ein absoluter Süchtigmacher. Leider viel Plastikverpackung.
sehr lecker und locker, jedes Jahre gerne wieder
schmecken der ganzen Familie
Die Teile ich mit niemand,sind meine Lieblinge jedes Jahr
Einfach lecker sind diese Kühlern.
Verschenke ich, kommen bestimmt gut an
Wie jedes Mal, sehr lecker.
Die bestellten Waren sind zu süß!
leider noch nicht probiert
Man hat wirklich den Geschmack von Eierlikör und empfehle das im Bekanntenkreis weiter
Wer Eierlikör liebt, ist hier Gold richtig. Suchtfaktor hoch zehn.
Die Eierlikörküchlein schmecken sehr gut
Hervorragendes Gebäck, leicht und locker.
superlecker und echt fein
Eierlikör Küchlein haben einen guten Geschmack.
Lecker!! Wenn man auf Eierlikör steht perfekt
War schneller weg wie man es aufmachen konnte
wie immer, gute Qualität; Erwartung erfüllt
Die Tüte ist noch nicht geöffnet
sehr gut - alles ok! Sehr gut!
Lecker, wer Eierlikör mag, wird dieses Produkt lieben. Meine Lieblingsküchlein!
Sehr gute Qualität und Geschmack
Volltreffer für Genießer vom Extra Feinen
Auch lecker. Werden es genießen.
Sehr lecker ................
Alles super gekennzeichnet und verpackt
Weil es schmeckt. Damit ist alles gesagt.
Zu trocken, sollten etwas feuchter sein.
Das ist mein absoluter Favorit. Der Geschmack, einfach nur himmlisch.
Alles bestens und köstlich
Feines Gebäck, könnte aber etwas mehr nach Eierlikör schmecken.
Sehr gute Qualität. Sehr gute Geschmack. Danke
Schöner Begleiter zum Kaffee
Ist ein Geschenk, kann ich nicht selbst bewerten.
lecker wenn man es sich leisten kann
alles bestens, dankeschön
Werden morgen probiert, bin mir aber sicher, sie werden uns schmecken. Hatte noch kein Produkt, dass nicht gemundet hat
lecker, lecker Alles hat sehr gut geschmeckt.
kann ich erst nach Weihnachten sagen, aber es sieht so lecker aus - hoffentlich kann ich der Versuchung noch etwas widerstehen
Super lecker und einfach ganz toll
schmecken sehr nach Eierlikör, sind aber auch seeehr süß...
lecker, lecker - immer wieder gerne geniessen
Ware Top würde immer weiterempfehlen
Für Eierlikör- & Kuchenliebhaber ein Muss zur Kaffeezeit
sehr feine Variante, ist mal anders und etwas Neues
Wird von jedem in der Familie geliebt..
Hatte ich zum 1. Mal es wird aber nicht das letzte Mal bei mir auf den Tisch kommen. Ist so schön etwas so leckeres im Haus zu haben wenn überrraschd auch zu Coronazeit ein lieber Gast erscheint!!!
Ich werde den Artikel weiterempfehlen
Lecker, einfach nur lecker
Sollte man verbieten, so gut sind sie!
Die Eierlikör-Küchlein schmecken mir sehr gut, da mir auch reiner Eierlikör gut schmeckt. Beides zusammen, toll.
Schmecken prima und sind nicht zu süß
Unserem Verständnis zu Nass. Geschmacklich nicht unser.
Die Produkte der Firma Schmidt sind wie jedes Jahr unübertrefflich. Ich bin voll zufrieden.
Die sind unbeschreiblich gut
Zu süß könnten weniger Zucker haben
Die Eierlikör-Küchlein schmecken sehr gut und wir werden sie auch wieder bestellen.
Ich bin von der Qualität begeistert. Verschenke auch gerne an Freunde.
Sehr gute Qualität der Küchlein. Der Geschmack ist richtig lecker.
Die Eierlikörküchlein schmecken uns zu jeder Jahreszeit. Sie sind einfach lecker, was soll ich mehr dazu schreiben...
Ein Genuss zum Adventskaffee
Ein Leckerbissen nicht nur für die Kaffeetafel.
Wir geniessen diese kleinen Kuchen sehr gerne am Nachmittag zum Tee. Die Qualität ist sehr gut.
sind sehr gut, kann man nur weiterempfehlen
Sehr gute Qualität. Für Eierlikör Fans ein muss.
Sehr schmackhaft. Ein Pprodukt, welches man nicht in jedem Laden in der Qualität findet.